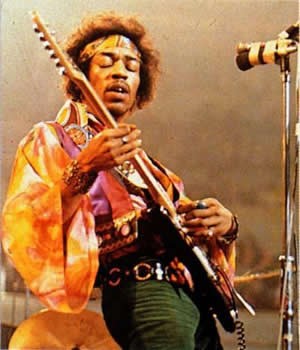 James Marshall "Jimi" Hendrix (November 27, 1942, Seattle WA, USA – September 18, 1970, London, England) was an American musician, singer, songwriter, guitarist, innovator, and cultural icon. Lauded by music fans and critics alike, Hendrix is considered by many to be the most influential and talented electric guitarist in rock music history. He achieved worldwide fame in 1967 playing at the Monterey Pop Festival, then headlined the iconic 1969 Woodstock Festival before his sudden death in 1970, at the age of 27.

A self-taught musician, the left-handed Hendrix played a right-handed Fender Stratocaster guitar turned upside down and re-strung to suit him. As a rock guitarist, Hendrix exploited the sonic tools of feedback and distortion to an extent that previous pioneers (such as The Kinks' Dave Davies, The Yardbirds' Jeff Beck and The Who's Pete Townshend) never achieved. He built upon the innovations and influences of blues stylists such as B.B. King, Albert King, Buddy Guy, T-Bone Walker, and Muddy Waters, and derived his musical style from rhythm and blues and soul guitarists such as Curtis Mayfield and Cornell Dupree, as well as the traditions of jazz. Hendrix was also inspired by rock pioneer Little Richard, having toured in Richard's back-up band "The Upsetters" before forming his own rock group in 1966.

Hendrix sought to combine what he called "earth", a blues, jazz, or funk driven rhythm accompaniment, with "space", the high-pitched psychedelic sounds created by his guitar improvisations. He also integrated instruments rarely used in rock, such as the harpsichord, recorder, and glockenspiel. As a record producer, Hendrix was also an innovator in using the recording studio as an extension of his musical ideas: he was notably one of the first to experiment with stereophonic and phasing effects during the recording process. Hendrix was also an accomplished songwriter whose compositions have been performed by numerous artists.